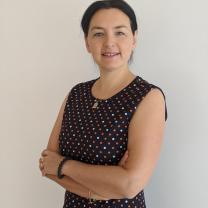 Adriana Tapus
Unité d'Informatique et d'Ingénierie des Systèmes (U2IS)
HDR
Adriana TAPUS is a Professor at ENSTA Paris, member of the Institut Polytechnique de Paris, in the Autonomous Systems and Robotics Laboratory of the Computer Science and Systems Engineering Unit (U2IS). In 2011, she obtained Habilitation (HDR) for her thesis titled "Towards a personalized Human-Robot Interaction".
She obtained her PhD in Computer Science from the Swiss Federal Institute of Technology in Lausanne (EPFL), Switzerland in 2005 and her degree in Computer Engineering from Polytechnic University of Bucharest, Romania in 2001. She has worked as a Research Associate at the University of Southern California (USC), where she was among the pioneers in the development of socially assistive robotics, contributing mainly in machine learning, human modeling, and human-robot interaction. Prof. Tapus is Associate Editor of the International Journal on Social Robotics (IJSR), ACM Transactions on Human-Robot Interaction (THRI), and IEEE Transactions on Cognitive and Developmental Systems (TCDS) and is on the steering committee of several major robotics conferences (IROS, ICRA, HRI, RO-MAN, etc.).
She has more than 150 research publications and received the Romanian Academy Award for her contribution in assistive robotics in 2010. In 2016 she was nominated as one of the "25 women in robotics you need to know about". She has been the main coordinator of several national and international projects. Since 2019, she is also a founder member of the RoboticsByDesign lab. 
Since 2019, she is also the DIrector of the DOctoral School of IP Paris.
Research and education activities
My research aims to design a robotic system with social abilities that exhibits personality and emotions through the use of verbal, non-verbal (e.g., gestures) and para-verbal (e.g. pitch, volume) communication so as to help people with physical and cognitive impairments, living alone and suffering from depression or not. Thus, the goal of this project is to improve quality of life of the users; this is done through the use of a robotic agent that supervises, encourages, and engages the users as they perform tasks such as rehabilitation, physical therapy, and cognitive stimulation. This research, by its very nature, aims to impact the vulnerable populations. The research work proposed is innovative as it addresses the role of customized therapy that can allow for continuous monitoring of the user's physical/cognitive status and of providing structure, guidance, reminders, motivation, and training and beyond through the use of combined, noninvasive, and affordable sensing, tracking, and robotics technologies.
The long term research plan focuses and treats some of the following research questions:
human-user modeling (e.g., gestures and postures classification and modeling);
developing new algorithms for automatic and incremental learning of different concepts, such as space and situations, and tasks, such as navigation and human-robot cooperation;
user physiological data modeling and interpretation;
signal processing for verbal and para-verbal communication in human-robot interaction;
developing learning algorithms and behavior control architectures that model, embody, and evolve with human user preferences, profile, and physical/cognitive disability level;
understanding and modeling of social and cognitive sciences results so as to obtain more realistic, reliable, and robust solution for robotics.
Awards & distinctions
Honors:
2016 - Award "25 women in robotics– 2016" – Robohub
2010 - Romanian Academy Award "Tudor Tanasescu" for the contributions in assistive robotics
Awards::
2019 
Best Interactive Session Poster Award IEEE RO-MAN 2019

Outstanding Paper Award ICCAS 2019

Recognition of Service Award in Appreciation for Contributions to ACM (General Chair HRI 2019)
2018               
Finalist Best Paper Award in Cognitive Robotics ICRA 2018

Finalist Best Paper Award IV 2018

Excellent Oral Presentation Award ICMCE 2018

Recognition of Service Award in Appreciation for Contributions to ACM (Program Chair HRI 2018)
2016
Finalist Best Student Paper Award FeDeV 2016

Finalist Best Research Paper Award Handiversité 2016
2015
Best Student Paper Award FeDeV 2015
2015               
Finalist JTCF Novel Technology Paper Award IROS 2015

Finalist Best Paper Award CHI 2015

Best Paper Award RAAD 2015
2013               
Springer Outstanding Best Poster Paper Award Runner-Up CTS 2013
2012               
Best Paper Award INCOM 2012