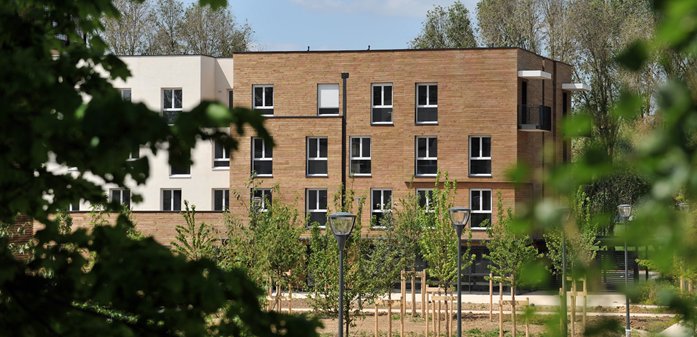 ENSTA Paris has concluded agreements with various organisations which now enable it to propose a certain number of places in the following residences:
the ENSTA Paris campus residence
the Cité Internationale Universitaire de Paris (CIUP)
Accomodation on campus
430 studios are available on campus.
Monthly housing rates
Studio (18,5 m2) : 290 €
Studio (22 m2) : 310 €
Apartment (36 m2) : 510 €
Aditionnal monthly fees
Studio (18,5 m2) : 115 €
Studio (22 m2) : 115 €
Apartment (36 m2) : 170 €
Financial aid
The financial aid process begins as soon as you apply to ENSTA Paris. Financial aid advisers will be available to answer your questions. Every student enrolled at ENSTA Paris will be provided with a monthly financial aid from 190 € to 230 €.
Services and amenities
Services

Access to Residential Life Staff           
Housekeeping in Common Areas        

In-room amenities

Kitchenette
Cable Television Connection   
Computer Networking Connection     
Telephone Wiring        
Carpeting        
Blinds or Drapes        
Private bathroom

Common area amenities

Cable Television Connection   
Laundry Facilities        
Mail Room/Boxes       
Student Activities Center         
Lounges/Community   

ENSTA Paris resources

Dining Services Restaurants    
Study Lounges            
Computer Labs
Fitness Facilities
Recreational Facilities
Libraries
ENSTA Paris provides…
bed & mattress
desk & chair
closet or wardrobe space
limited drawers
carpeting
window treatments
high-speed computer network connection
cable television connection & service
stove & refrigerator (apts)
dining table, chairs & sofa (apts)
wastebasket
recycling receptacles
Accommodation at the Cité Internationale Universitaire de Paris
The Cité Internationale Universitaire de Paris is situated in a wooded park of 34 hectares at the southern edge of the French capital. It can accommodate 5500 residents from round the world, representing 130 nationalities, including about one third French students spread over the 37 halls.
The CIUP is close to the "Cité Internationale" station on the RER B express line, giving rapid access to the centre of Paris. For its students, ENSTA Paris reserves three categories of rooms at the Cité Internationale Universitaire de Paris:
double rooms
"standard" single rooms with shared WC and showers
"comfort" singe rooms with private WC and shower
The prices vary according to the size and category of the room and the hall of residence (from 295 to 510 Euros per month, without a housing grant).
For more information, you can consult the CIUP website.
Accommodation in the CIUP is proposed to ENSTA Paris students for the entire school year and therefore ends on the 30th of June. An extension into the summer holidays may be possible on a case by case basis. There is no automatic renewal of the room allocation from one year to the next.